Shipping Rates and Terms
For all orders that consist exclusively of wax worms, giant mealworms, mealworms, Mousees and Spikes (in season), please refer to the chart below to calculate the shipping charges.
| | |
| --- | --- |
| Order Total | Shipping |
| Up to $34.99 | $19.95 |
| $35.00 to $99.99 | $24.95 |
| $100.00 and over | Call for charges (will be billed actual freight amount) |
---
Shipping charges will be calculated for you during the checkout process. For any order that includes at least one item from the Fishing Supplies Store, Wholesale Bait Company will manually calculate the shipping charges, in order to provide the most efficient packaging, and therefore the best value, to you. In this event, when you place your order, you will be given the option to have a Wholesale Bait Company Customer Service Specialist contact you and inform you of the shipping charges before your order is processed.
It's Easy To Do Business With Us

LIVE DELIVERY . . . WE GUARANTEE IT! (Certain restrictions apply)
You must notify us immediately if there is a problem with your order.
Wholesale Bait Company will replace or issue a credit for your order. WE DO NOT REFUND SHIPPING Charges for orders that arrive dead. If a replacement order is desired, shipping charges will apply on replacement orders. WBC has been shipping Live Bait for over 60 years. Even though we do our best to ensure your product is fresh, lively and packaged securely, we cannot control what happens to the package when it leaves our facility.
Someone MUST be home to receive the package in order for us to guarantee live delivery. (After all would you want to be just left on the porch in the sun?)
Wholesale Bait Company is not responsible for carrier delays or issues. Claims due to carrier errors or delays must be handled directly with the carrier, not Wholesale Bait Company.
On all Live Bait shipments requiring more than 2 day ground transit times, we will be unable to offer a Live Delivery Guarantee unless an expedited shipping option is utilized. We will be happy to provide a shipping quote on those orders. If a ground option is chosen, the shipment will be strictly at the customer's risk.
There are certain times of the year, particularly June through September when we must suspend our Live Delivery Guarantee due to temperature extremes. You will be notified at the time of order if there are concerns with your order arriving safely!
We thank you for considering Wholesale Bait Company and we appreciate you being our customer…

REMITTANCE WITH ORDER (CHECK OR MONEY ORDER ONLY).

We accept VISA, MASTERCARD and DISCOVER card (for shipping orders only).

OPEN ACCOUNT (NET 7 DAYS) To established dealers, shipping orders only - please call for details about credit requirements

Wax Worms, Giant Mealworms, Mealworms, Mousees and Spikes (in season) can be ordered and shipped with a nominal
SHIPPING CHARGE
when you pay with your order or charge to your credit card. No other shipping charges will apply.

Prices for other items in our catalog
DO NOT
include shipping charges and are F.O.B. Hamilton, Ohio. WE WILL BE HAPPY TO ESTIMATE SHIPPING CHARGES ON ANY ORDER YOU INTEND TO PLACE WITH US.

Jobber/Distributor prices (call for price list) on Wax Worms, Giant Mealworms, Mealworms, Mousees and Spikes (in season)
DO NOT
include shipping charges and are F.O.B. Hamilton, Ohio.

Prices subject to change without notice. Orders and back orders will be filled at prices prevailing at time of shipment.

Ohio dealers - Ohio sales tax must be charged unless a certificate of exemption is submitted with your first order, if no certificate is on file, please add 6.50% to your remittance.

Checks returned by our bank for any reason are subject to a $42.50 (minimum) service charge.

All claims for loss and/or damage must be reported to us within 24 hours of receipt. we can assume no responsibility for loss or damage incurred from the use or application of any products we sell.

There is a 20% re-stocking charge on any items returned. Some products are non-returnable. Please call us before refusing or returning any products shipped to you.

This site and its contents are intended to comply with United States laws and regulations. Although accessible by others, this site and its contents are intended for access and use by U.S. residents only. Shipping limited to the 48 contiguous states.
Methods of Shipping
UNITED PARCEL SERVICE (UPS)

Most non-perishable items, and many LIVE BAIT items (depending on weather conditions, distance, etc.) can be shipped by UPS. This fast, economical method of shipment is ideal for most shipments.

Maximum weight per package, 150 pounds. Maximum size per package, 130 inches in length and girth combined.

United Parcel Service delivers your order to your door. If your address contains only a post office box or rural route number be sure to include the name of your street, road or state or county road number. Be sure to make arrangements for receipt of your shipment if you are closed or not at home.

UPS Next Day and 2nd Day Air available for many products to many areas. Please call us for details.
PRIORITY MAIL

In certain instances, where weather conditions, distance, etc. may make UPS shipping of LIVE BAIT items too risky, we may (at our option) be able to ship your order by PRIORITY MAIL. Traveling mostly by air, through U.S. POSTAL SERVICE facilities, packages are delivered to your door by your mail carrier in most cases.
AIR FREIGHT

Recommended for live bait shipments, weighing 60 lbs. or more.

Fast service for customers that are located in or near major airport cities and can pick their shipments up at the airport. (When ordering, please specify airport city to be shipped to and include your telephone number so you may be called for pickup when your shipment arrives.)

We will forward rates and schedules upon request.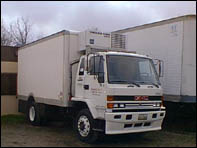 ROUTE DELIVERY

Scheduled route trucks serve many areas of Ohio, Indiana, and Kentucky. Please call us for availability of this service in your area. Minimum Delivery - $100.00.
TRUCK FREIGHT

We recommend truck shipment when orders (equipment and/or supplies) exceed United Parcel weight and/or size limitations.

We do not ship live bait by truck freight.